Well peeps, I can finally show you my master bathroom remodel that I started in September 2009 and FINALLY finished this month... January 2012. I can hardly believe it took that long to finish one remodeling project.
Let me explain before you think that I am the world's slowest remodeler or whatever you want to call it. I am not, but my trim-man, Dan the Trim-Man is the biggest procrastinator that I know when it comes to finishing certain projects, and most all of my projects that he gets roped into helping me with fall into that category. Sorry honey, but it's true... don't make me mention the master bedroom.
It didn't take me too long to remodel the bathroom, but it took forever to get Dan the Man to finish the trim and I could not take pictures and post them on my blog until the trim was done. Period.
So let's back up and I'll tell you what I was dealing with.
We live in a double-wide trailer house. I like to say mobile home, it sounds a little nicer, but the fact is that it is a trailer house.
Our trailer house has ugly disgusting wall board in every room.
The master bathroom had carpet in it. I hate carpet in bathrooms.
We had water damage on the ceiling that looked gross and was embarrassing for me.
We had two GIGANTIC mirrors in the bathroom that made we want to puke every time I had to look at myself naked in them. What a harsh reminder that I no longer have the body of a 20 year old. Egads... what happened???
So, it was time to remodel. I actually have been trying to remodel the whole house, but as we all know, that takes time and money. Two things I always find myself short of.
I did this remodel on a very modest budget... probably didn't spend more than $500 dollars on it. I can't be sure because it was so long ago that I bought every thing I can't remember the cost. Here is a list of what I spent money on and how much I spent as best as I can remember:
New laminate flooring, got on clearance and I think I spent about $125 or so on that.
New counter for vanity. Don't remember, but it wasn't much.
New sink and faucet, around $100 for both on eBay. I think the sink is what "makes" the bathroom.
Paint and Primer for walls and cabinets.
New hardware (pulls and hinges) for the cabinets.
New light fixtures and towel bar.
So without further ado... Here are the pictures!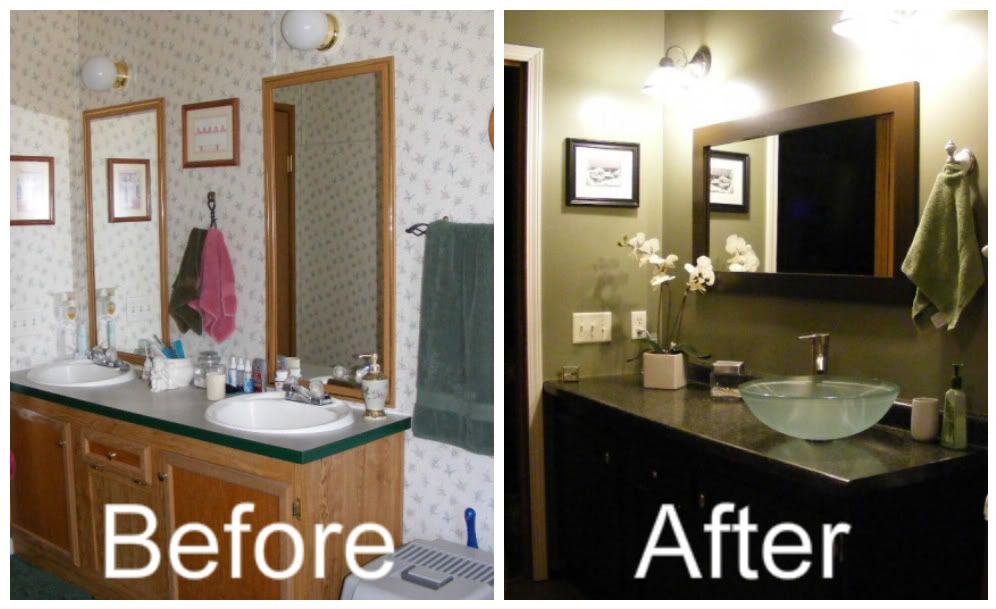 I painted the cabinet an espresso color and added new knobs and hinges, new counter top, new sink and faucet. We didn't really need two sinks. I like the extra counter space the one sink provides. As for the two mirrors... I turned one sideways and Dan the Man made a frame for it which I painted the say color as the cabinets. New light fixtures too although they are hard to see in the picture.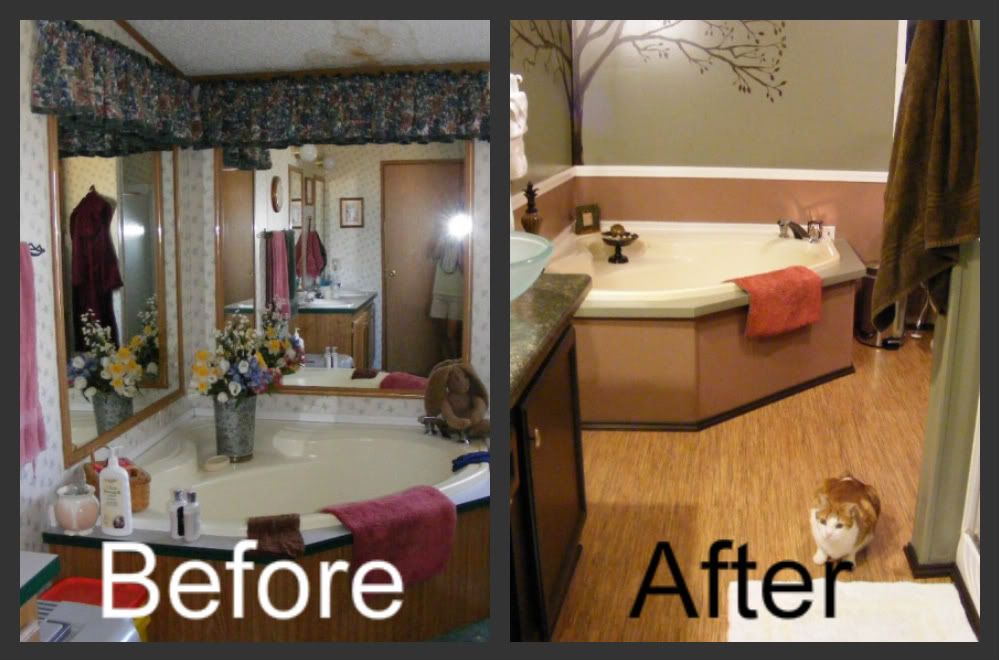 I got rid of the hideous mirrors around the tub and painted the tree! Also painted the bathtub surround thing. Notice the nice new flooring not the gross green carpet. Oh and Sammi wanted to be in the picture too!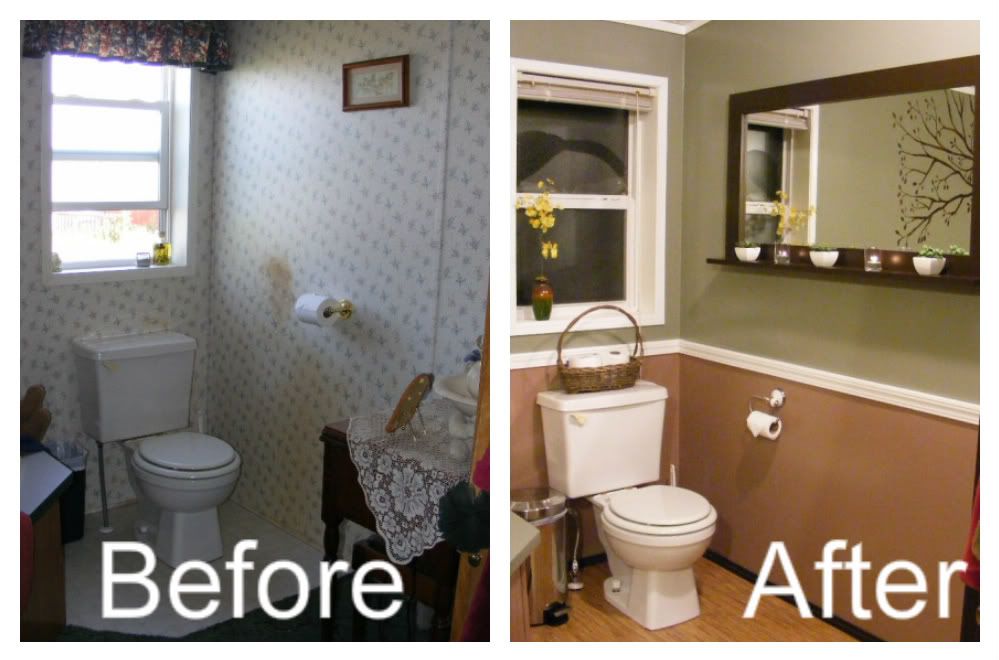 I added a chair rail to separate the two new colors. And here is the other mirror that was over the vanity, again turned the other way with a frame and also a little ledge that Dan the Man made, painted the same color as the cabinets.
Here are some more pictures of before and after.
Never mind the broken window... that's still from the July storm.
The outside pane is broken, not the inside.
Don't worry, we are not living with a completely busted out
window in our bathroom.
I took this picture so you could kind of see the shower which is situated
to the right as you come in the door.
Almost impossible to get a picture of it.
Painted cabinets... so much better.
Well, there you have it! I LOVE it!! If you want more details on products that I used or how I did anything, don't hesitate to ask in the comments. If you'll excuse me now... I think I shall retire to the spa and soak in the tub for a while!